Our house is old. I love it, but it's old. When we first looked at this house - it was a wee bit hard to see the bones of the house through all the crap. And wow, was there a lot of crap. There was an older woman living here - the only owner of the house, I believe. She loved pink and pink and pink and then she loved wind chimes. There were wind chimes everywhere - in the house, outside the house - everywhere. I remember walking up the stairs to the bedrooms and my dad bumped his head on another set of wind chimes. Seriously!!
There was wallpaper and/or border everywhere. The foyer, the bathrooms and all three bedrooms had some form of paper stuck on the wall. I'm not even sure now which room was the worst. I guess the guest bath was probably the worst. It's that lovely shade of mint green tile. The wallpaper was pink and blue flowers - nothing in it matched the green tile at all. Crazy stuff. I really liked the green tile once the wallpaper was gone. It's really old, but not a terrible shade, I've seen worse.
Anyway, we painted a nice light brown (Chatham Tan to be exact) and I decorated slowly with creams, whites, and various shades of brown. I really liked it. Eventually I decided I wanted a darker shade of brown. Now it's the color of YooHoo! It's much better now. I added some vinyl to one wall last summer, one piece a week it seemed, after getting my Silhouette. I took about three months to make a cute wreath, too. Do you see a pattern here? I am a slow crafter!
The bathroom also had those terrible sliding glass shower doors. Horrible. Hate them with a passion.
I finally got Jason to take them down during Spring Break and I started working on a shower curtain. I really wanted this:
$69 is a wee bit over my budget though - okay more than a wee bit. I really liked this one, too: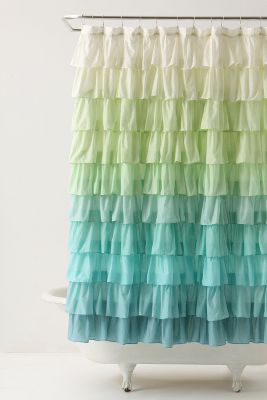 But in white and not for $118.
So, I went through Pinterest and looked for tutorials. I found several and sadly, followed none completely. I ended up buying a white shower curtain and a white king size sheet - which was fitted and should have been flat. Anyway, I measured and cut fabric (not perfectly, but good enough). I left the edges raw - which I loved. I ended up with five ruffles along the bottom instead of the three from the top picture. I love it. I hung it up and realized my ruffles were REALLY crooked. So, not I can't even show you a picture because it's just that bad.
So, the first thing on my Summer to-do list is to make some fabric flowers out of a twin sheet, which again was fitted and not flat - will I ever learn to read the labels better? And I'll stitch on the flowers randomly along the top of the first ruffle to hopefully even it out a bit so you won't be able to tell it's so crooked. I'll post the finished project - one day. Remember, I'm a slow crafter.
Here's the inspiration for the flowers: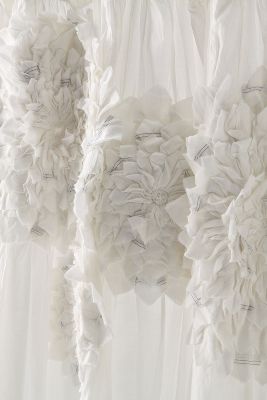 Anyone else make great fabric flowers that I can use as inspiration? I can't wait to finish this project, it really bugs me every time I go in there and see the curtain closed and all crooked!
Thanks for stopping by!
Lisa