Hello out there!! I've been a busy little crafter lately. I have a few things I wanted to share today - with a few more coming later in the week!!
First, I've been wanting to make some subway art with all our 'home' addresses listed. When Cole was going through his surgery/radiation/chemo - he always whined that he just wanted to go home - to the REAL home sweet home. So we started referring to everything as a different home. The 'hospital home sweet home' was the hospital in Mobile. The 'Ronald McDonald House home sweet home' was in Memphis, as well as the 'Target home sweet home'. It helped Cole a little I think to know that every where we had to stay was really HOME if we were all together. So, on our subway art I included the street for the Ronald McDonald House (Alabama Avenue) and Target House (Poplar Avenue). So here's the finished project:
This is propped up on the end of the bar separating the kitchen from the den. The kitchen has that terrible pink formica - so I'm trying to overpower it with lots of pops of red. You can see more red here:
Ok - on the the fourth!! We had all of my mom's family over and cooked out. I wanted a few things outside to welcome our guests - so this is what I did:
I added ribbon to my wreath to dress it up for the holiday - I love the look of corker bows but have never needed them since Cole isn't much of a hair bow wearer and I'm a bit too old for them! I saw something similar to this and just thought it was a great use of ribbon!
I saw this done on Pinterest and thought it would be cute. I used poster board, cut out a star and the filled my sifter with flower. The only bad thing is the poster board isn't quite sturdy enough - I would just use cardboard next time. It was really too hot to do more than this, but I had planned on lining the entire sidewalk and driveway - but it was hot!!!
Jason has some scrap wood for a few different projects, so I added some paint and paper and made some firecrackers!! I just thought this urn would be the perfect place to toss them - it's right next to the front door. Sadly, right before placing these in the pot - Jason removed the giant Easter Egg that had been sitting there since early April - pathetic huh? I just kept forgetting to take it in!!
Now, the fourth of July decorations are still out and probably will be for a few more days at least. We have family coming in this weekend, so why not leave it up??
Hope you had a fun filled fourth (say that five times fast) and enjoyed some time with friends and family, as well!
We've been keeping pretty busy this summer - so hopefully I'll be back soon with more tales of craftiness!!
I'm linking up here: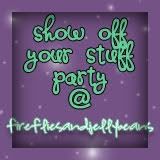 Lisa